Cypress Development Corporation – Developing A Large, Shallow, Soft Rock Lithium Deposit in Clayton Valley, Nevada
We are in the very early stages of an enormous change in the way we consume energy; the days where oil dominated vehicle propulsion appears to be nearing the end. With the movement to electrically driven vehicles, comes the need for portable electrical energy storage – IE batteries.
For those not familiar with the battery metals, currently the most common vehicle battery compositions consist mainly of nickel, cobalt, manganese, lithium and graphite.  Lithium, in particular, has an interesting narrative, as its bullish outlook is not based on a current shortfall in supply, but in my opinion, is a narrative which is based on strong future demand projections, and the future security of the supply of auto and battery manufacturers.
World Lithium Reserves
Lithium is by no means rare; the United States Geological Survey (USGS) estimates world reserves at 14 million tonnes. The bulk of the world lithium reserves are found in the Lithium Triangle, which includes Argentina, Chile and Boliva, as well as Australia and China.
Like the location of the world's lithium reserves, the lithium market is very small in comparison to the other battery metals. It's dominated by a few conglomerate giants: Albemarle, FMC Corporation, SQM and Sichuan Tianqi Lithium Industries.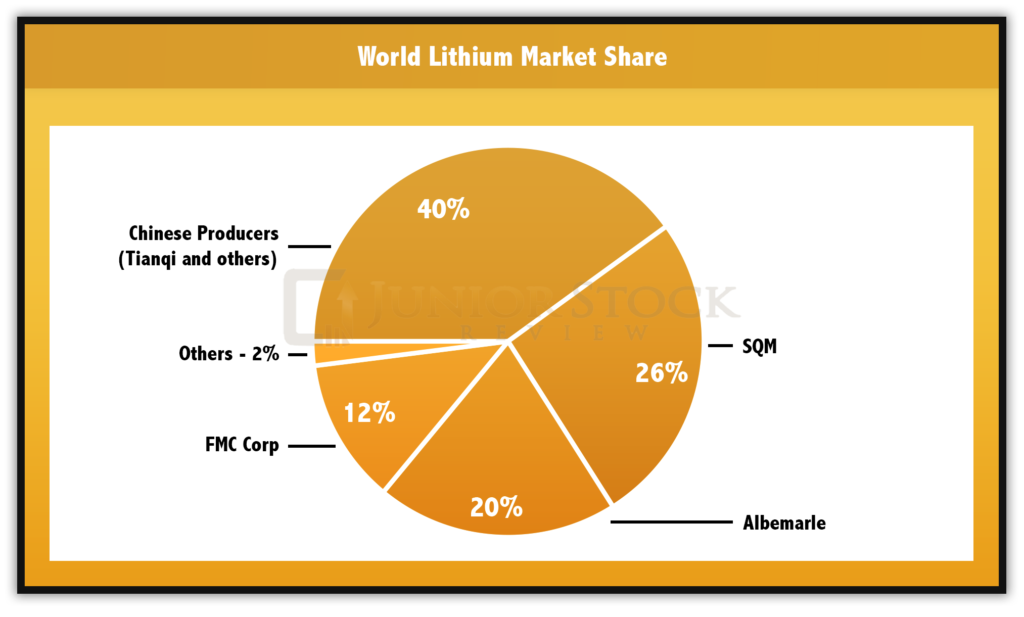 Source: Sociedad Quimca Y Minera De Chile (SQM)
Lithium Deposits
Currently, commercial lithium production is dominated by lithium produced from brines or hard-rock deposits. However, there is a third deposit type which may become an important source of lithium in the future, lithium soft-rock deposits.
In the past, lithium soft-rock deposits have been plagued with high processing costs, as the separation of lithium from the clay has proven to be uneconomic. There are a few companies, however, which are pushing forward with new approaches to processing these soft-rock deposits. Today, I'm going to share with you my analysis of one of these companies, a company that I believe gives the investor a good risk to reward ratio for their money.
This junior lithium company is Cypress Development Corporation. Cypress is the 100% owner of two soft-rock lithium projects, Dean and Glory, which are situated in Clayton Valley, Nevada. Cypress is cashed up with the closing of their recent $1.4 million CAD Private Placement, and are looking to add value to their projects via a drill program this fall.
Let's take a closer look at Cypress Development Corporation.
Cypress Development Corporation – (CYP:TSXV)
MCAP – 6.0 million (at the time of writing)
Shares – 35,452,730
Fully Diluted – 48,172,713
CASH – Roughly $1.5 million CAD (Recent $1.4 million Private Placement)
The People Behind Cypress
Cypress is led by newly appointed CEO, Dr. William Willoughby. Willoughby is a professional mining engineer by trade with over 38 years of experience in the mining sector.  Willoughby's experience is well diversified, having held senior roles in his own consulting company, International Enexco Limited and Teck (Cominco).
Willoughby was appointed as CEO of Cypress for his technical acumen, which will be used as he leads the Cypress team in their effort to expand, prove deposit continuity and, ultimately, achieve economic extraction of the lithium from the claystones.
Cypress' technical team is rounded out with the VP of Exploration, Robert Marvin. Marvin is a professional geologist by trade with extensive experience within the resource sector in both Canada and the United States.  Marvin has been involved in a number of successful companies, most notably being the sale of Bayfield Ventures' Rainy River Project land package to New Gold in 2014.
Donald Mosher, in charge of Corporate Development, completes Cypress' management team. Mosher is well versed in the mining industry, having 30 years of experience in a variety of different companies and senior roles. To note, he is the former CEO of Rodinia Minerals, which was focused on exploring for lithium in Clayton Valley.
The Cypress Board of Directors
The Cypress Board of Directors is headed by Chairman and President, Donald Huston. Huston has been involved in the mining industry for over 30 years and currently serves as a director for 4 other Canadian public resource companies. Huston's experience within the mining industry is most notably on the financial side, while also working as a geophysical contractor and in-field manager of numerous mineral exploration projects across North America over his 30-year career.
James Petit is both a Director and Cypress' acting CFO. Petit has over 25 years of experience within the mining industry, primarily on the financial side of the business. Additionally, Donald Myers and his 30 plus years of experience in public company management, and Amanda Chow, a CPA, round out Cypress' Board of Directors.
Nevada
Cypress's lithium projects are located in Clayton Valley, Nevada, which is situated in the western United States. Nevada has a long history of mining, as it's home to the world-class Carlin Trend, which is host to some of the top producing gold mines in the world.
Additionally, just outside of Sparks, Nevada is the future home to Elon Musk's Gigafactory. The Gigafactory is expected to have an annual capacity of 35 Gigawatt-hours, which is equivalent to the entire world's current battery production. This enormous capacity will be used to fulfill Tesla's projected future battery needs, as the electrical vehicle (EV) market continues its ascent in the years ahead.
As such, it's no surprise that the Fraser Institute ranks Nevada 4th in the world for mining investment attractiveness.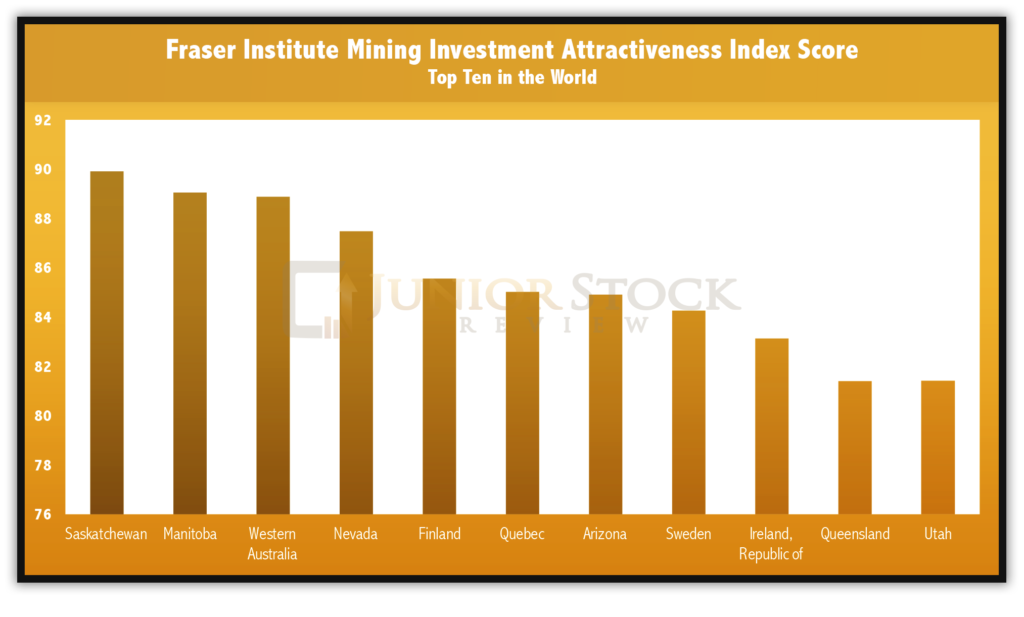 Source: Fraser Institute
While Cypress' main focus is on its lithium projects, it should be noted that they do own the Gunman Zinc- Silver Project, which is located just north of Eureka, Nevada.  The Gunman Project is in the early stages of development and does not yet have a resource estimate, however, for those interested, there is a technical report on the project.
Lithium Projects
Cypress' Dean and Glory Lithium Projects are located in close proximity to Albemarle's Silver Peak Mine, which is the only producing lithium brine in the United States.  Given that Silver Peaks is a producing mine, the surrounding area is well equipped with the infrastructure required for further development in the area – power, road access and a workforce.
"Clayton Valley is located within the Basin and Range Province in southern Nevada and is an internally drained, fault bounded, and closed basin. Basin filling strata compose the aquifer system which hosts and produces the lithium-rich brine" ~ Cypress Development Corp.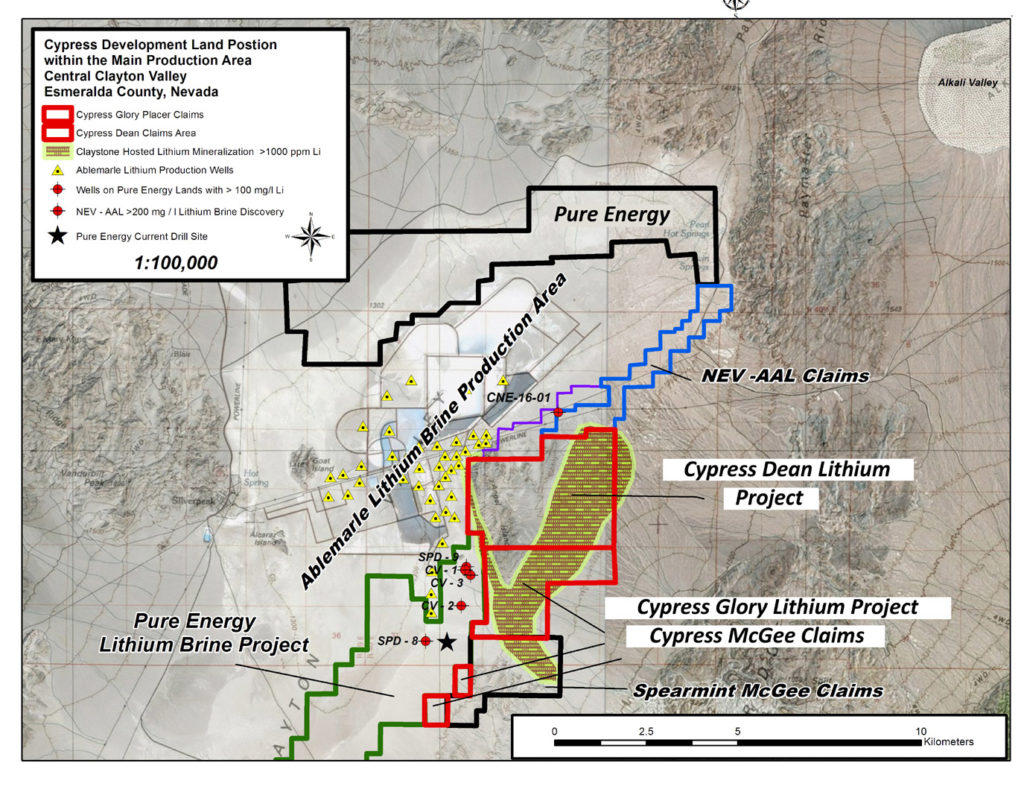 Source: Cypress Development Corp.
Dean Lithium Project
The Dean Project is Cypress' flagship project, consisting of 35 placer claims encompassing a total of 2,700 acres.  Dean's western claims are in close proximity to the Silver Peak Mine's producing lithium brine wells. Additionally, on the southwest border, is Pure Energy and their northern resource area.
Source: Cypress Development – Dean Lithium Project – Salt Green Lithium-Rich Claystone
The Dean Project's lithiumrich claystone is hosted in the Esmeralda geological formation. While the claystone remains the focus of the current development of the property, it should be noted that Cypress believes that there may be additional lithium bearing brine aquifers below the claystone. It's hypothesized that the claystone at surface represents uplifted portions of the lake bed stratigraphy, from which the lithium brines of Clayton Valley are found and produced.
2016 Exploration – Dean Project
In 2016, Cypress completed a two-phase exploration program which concentrated on surface sampling.  In Phase 1, 55 samples were taken and assayed for their lithium content. Overall, the sampling returned grades which ranged from 340 ppm Li to 2,940 ppm Li, with an overall average of 925 ppm Li.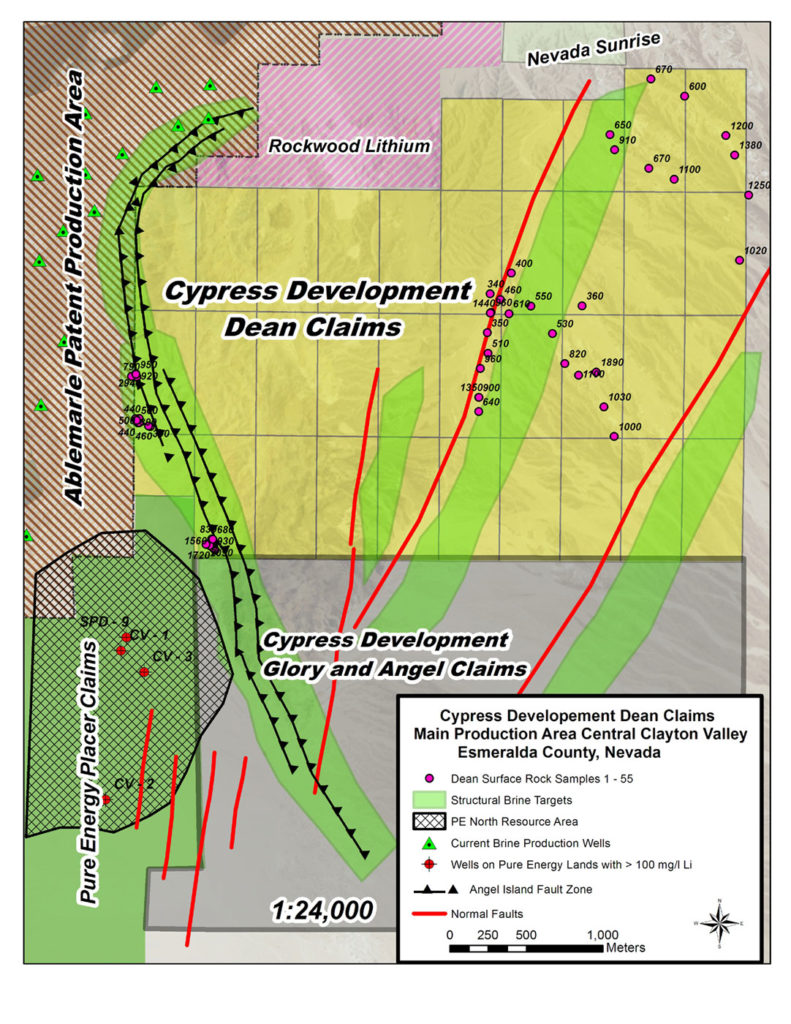 Source: Cypress Development Corp. – Dean Project – Sept. 2016 Sampling Map
Following up on the results from Phase 1, Cypress proceeded to complete a Phase 2 program which continued with surface sampling and a detailed geological mapping program. Highlights from the 72 sample Phase 2 program include: 37 samples of higher than 1000 ppm Li, a program sample grade high of 3,730 ppm Li, and the identification of a new high-grade zone which is greater than 2 square kilometers.
2017 Exploration – Dean Project Drilling
The results of the 2016 exploration project set the stage for this spring's drill program, which used the sampling data to identify several targets for drilling, including the extensive outcropping of altered green evaporate-rich volcanoclastic claystone/mudstone exposures.
Highlights of the 9 hole drill Phase 1 Program include: Starting at surface, average lithium mineralized thickness is greater than 220 feet, outlined lithium mineralization zone is roughly 4 km x 2 km and considered to be open in all directions, and finally, all 9 holes of the program intersected continuous and consistent grades, averaging 899 ppm Li throughout the depths of all 9 holes.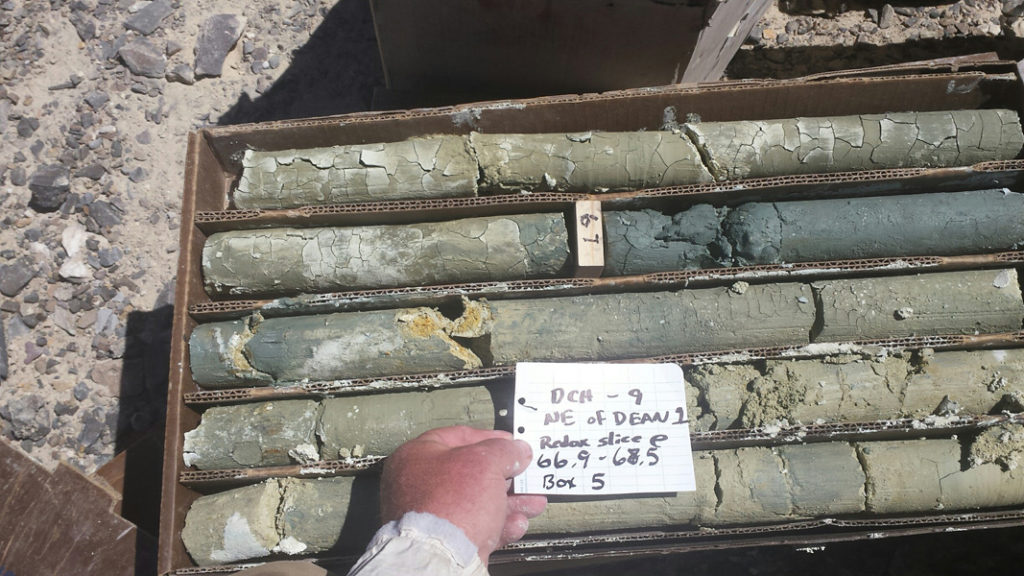 Source: Cypress Development Corp. – Core Samples
Glory Lithium Claystone/Brine Project
The Glory Project consists of 76 placer/lode claims encompassing a total of 1,520 acres. Glory is 100% owned and situated south of Cypress' Dean Lithium Project. Its western claims are bordered by Pure Energy, a lithium company which has an inferred lithium brine resource on the bordering property.
Source: Cypress Development Corp – Glory Lithium Project
Although Glory's claims are much like Dean's, in that they contain lithium-rich claystones, Cypress' technical team believe that given the seismic data found in Pure Energy's 43-101 technical report, dated July 17, 2015, there is a good chance that Glory's western and west central border with Pure Energy has lithium brine target potential. Future deep drilling, 150m to 300m, will test this hypothesis.
Source: Cypress Development Corp. – Glory's Western Border with Pure Energy
2016 Exploration – Glory Project
Like the Dean project, Glory saw a two phase surface sampling program in 2016. The first phase was completed in January of 2016, and was highlighted by several assays which returned grades greater than 2,000 ppm Li, with the highest assay returning 3,070 ppm Li.
Phase 2 at Glory took place in May, 2016 and furthered the surface sampling and geologically mapping of the western portion of the Glory property. 200 samples were taken, outlining the discovery of a wide 2 kilometer north-south strike zone of outcropping highly mineralized claystone. Assays in this area averaged 1,100 ppm Li.
Finally, in October of 2016, Cypress and Pure Energy jointly collected 240 rock samples in the north-south strike zone, which returned some great grades and further extended the lithium rich zone another kilometer.
2017 Fall Drill Program Goals – Dean and Glory
Drilling in Cypress' Fall 2017 program began on October 13, with the first drill hole collared on the Dean property. Cypress plans to drill a dozen holes, up to a total of 4,000 feet of core, on the Dean and Glory claims. The program will extend and in-fill the previous drill intercepts on Dean, and provide the first initial drill tests of the Glory claims, which have not had any previous drilling.
Claystone Solubility Testing
 "The goal of this work is to substantiate the potential to produce lithium directly from the mineralized claystone with a low cost and environmentally friendly approach without the need for roasting or other costly mining and complex treatments." ~Cypress Development Corp
Preliminary testing of surface samples of Dean claystone, has thus far shown encouraging results. Testing at ALS Chemex's Lab in Reno showed an average of 35% Li extracted using a water leach process (ME-MS03) and a 95% Li extracted using a dilute Aqua Regia leach process (ME-ICP61).
A summary of testing:
Testing of surface samples suggests that a synthetic brine can be created which is very similar to those produced from Albemarle and Pure Energy brines. NOTE: Cypress' critical ratios of Magnesium to Lithium – 2.98 and Calcium to Lithium – 2.34
Cypress is moving ahead with mineral identification by X-ray Diffraction, which is being conducted by the University of British Columbia and SGS.
Cypress will be doing additional metallurgical work in search of the lowest cost extraction method, which includes looking at using plain water, non-acid leach and dilute acid leach methods.
Finding a low cost process for lithium extraction, plus low residual ratios of Mg:Li and Ca:Li, will add major value to the company. Cypress' leadership was built for this task and will be tested moving forward.
Market Comparables
To gauge the upside potential for Cypress, we need to do a market comparison of similar companies. In general, it isn't hard to find market comparisons in the lithium sector. However, considering the somewhat unique nature of lithium soft-rock deposits, I think that it's pertinent that we compare Cypress to other companies developing soft-rock projects.
While there are never perfect comparisons, I think I have found two companies that we can use to gauge Cypress' potential.
Bacanora Minerals – BCN:TSXV
MCAP – roughly $186 million CAD at the time of writing
Bacanora owns 3 projects in Mexico and 1 in Germany, their Sonora Lithium Project is the most developed and their flagship asset. The Sonora Project is a lithium clay deposit located in Mexico, which Bacanora owns 100% of the La Ventana concession and 70% of Mexilit and Megalit concessions.
A Pre-Feasibility Study completed on the project reveals some great numbers, here's a sample:
After-tax NPV @8% – 542 million
After-tax IRR – 25%
Based on 35,000 tonnes Lithium Carbonate per year
Probable Reserves – 129 MT Ore, 3,015 ppm Li, 1.28% K, 2,083,000 LCE
Indicated Resource – 259 MT Ore, 3,200 ppm Li, 1.4% K, 4,463,000 LCE
Inferred Resource – 160 MT Ore, 3,200 ppm Li, 1.3% K, 2,740,000 LCE
Global Geosciences – GSC:ASX
MCAP – roughly $270 million AUD at the time of writing
Global Geosciences owns 3 projects in Nevada and 1 in Arizona, all in the Western United States. Global's Flagship asset, the Rhyolite Ridge Lithium-Boron Project, is a well developed sediment searlesite (soft-rock) deposit which is currently targeting the completion of a Pre-Feasibility Study by the end of 2017.
Rhyolite's deposit has a JORC Resource of 393 MT @ 0.9% lithium carbonate and 2.9% boric acid. Rhyolite is located just west of Cypress' Dean and Glory Lithium Projects.
As I mentioned in the opening of the comparisons section of this report, these comparisons are meant to be gauges for future upside potential. Given Cypress' exploration success in 2016 and in the spring of 2017, this fall drill program should further outline the potential size and continuity of the deposit.
The confirmation of a large lithium soft-rock deposit that is economically processed into lithium carbonate is worth a considerable amount given the two market comparables which I have shown, especially given Cypress' roughly $6 million MCAP.
Concluding Remarks
No junior resource company is without question marks. In Cypress' case, the question of the economic metallurgy of its lithium claystone is the biggest unanswered question, in my mind. However, as I said, there are always questions when it comes to junior companies, and in Cypress' case, the positives far out-weigh the question marks:
People – A group of seasoned mining professionals, led by CEO, Dr. William Willoughby, whose technical background sets himself up well for leading Cypress to success
Projects – The Dean and Glory Lithium Projects are in Nevada, a world-class mining jurisdiction, in close proximity to the Silver Peaks Mine and surrounding infrastructure. The combined properties cover a large area of lithium-rich claystone from which drilling so far has grades consistently above 1000 ppm lithium and averaging 899 ppm throughout.
Low MCAP and Tight Share Structure
PUSH: Fall Drill Program Results, 12 holes and 4,000 feet of core, follow-up on Dean and initial drill tests of Glory.
CASH Position – Roughly $1.5 million CAD
Cost of Exploration – roughly $100/m – Cypress has the lowest cost per meter of drilling that I have encountered, giving the shareholder maximum return on our drilling dollars.
Unique setting and opportunity – No other lithium claystone is located adjacent to an existing brine operation. Besides its favorable setting, Cypress' deposit is shallow, soft rock that appears to have readily soluble lithium. With its apparent large size, all these factors combine to look like a unique opportunity for what could be a new major lithium project
Cypress Development Corporation is a company in which I'm investing to take advantage of this major change in the auto and battery markets. The last Century's energy sector was one dominated by oil, the next will be dominated by non-carbon emitting energy generation, which will have to adopt the use of batteries to run our vehicles and allow us to access power when the sun isn't shining, the wind isn't blowing, or we can't be plugged into the grid.
Don't want to miss a new investment idea, interview or financial product review? Become a Junior Stock Review VIP now – it's FREE!
Until next time,
Brian Leni  P.Eng
Founder – Junior Stock Review
Disclaimer: The following is not an investment recommendation, it is an investment idea. I am not a certified investment professional, nor do I know you and your individual investment needs. Please perform your own due diligence to decide whether this is a company(s) and sector that is best suited for your personal investment criteria. Junior Stock Review does not guarantee the accuracy of any of the analytics used in this report. I do own Cypress Development Corporation shares. Cypress Development Corporation is a Sponsor of Junior Stock Review.