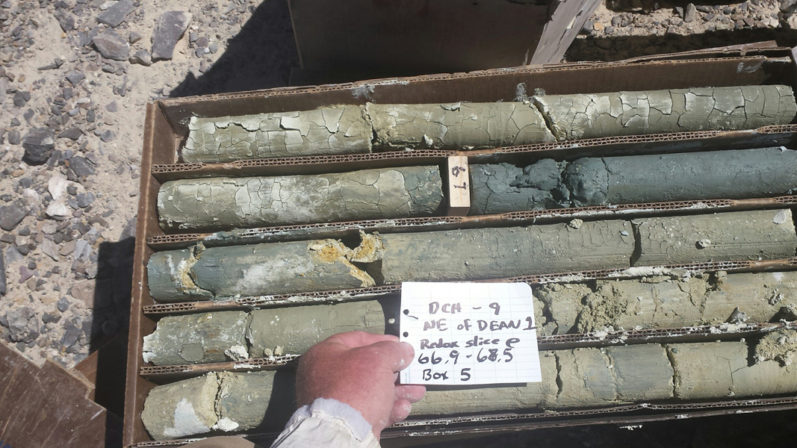 UPDATE – Cypress Development's Fall Drill Program
There's always contrasting chatter about where we are in the market. This chatter can focus on the macro or concentrate on the micro, with experts taking a stab at calling the direction of the whole resource sector, or a specific metal, like gold.
I continually get questions pertaining to the direction of specific metals with timelines of 3 to 6 months. Personally, I have a hard time answering these types of questions, given such a short timeline.
Over the course of my investing career, my best decisions have come with long-term, 1 to 3 year outlooks. A long-term outlook with an emphasis on quality companies, for me, has been a recipe for success, and I know it will be the same moving forward.
Lithium
In particular, there is one metal that I think has great long-term demand fundamentals, and that metal is Lithium. As you may know, lithium's future demand narrative is one which is based on the demand emergence of electric vehicles (EV) and their use of batteries to store electrical energy.
Statista says that since 2014, on average, there have been 73.7 million cars sold each year, worldwide. Of the 70ish million cars sold in 2016, Inside EVs states that 777,497 EVs were sold worldwide. Using historical data of EV purchases, going back 5 years, we can roughly calculate a Compound Annual Growth Rate (CAGR) of 88.33%.
Therefore, using the EV CAGR and projecting out until 2021, you get a demand of 18.4 million EVs. Now, this is just an estimate, but given the current rate of adoption around the world, it shows that the EV market is clearly growing.
I believe the world is headed toward electrification, meaning a reduction in the consumption of fossil fuels. Given this outlook, I can ride out any short-term declines in the lithium market and view them as buying opportunities, because of the greater trend which I believe is in motion.
Today, I would like to give you an update on Cypress Development Corporation's fall drill program, following the recent release of its first round of drill results. Cypress owns contiguous lithium properties, Dean and Glory, in Clayton Valley, Nevada.
Let's take a look.
Fall Drill Program
On December 5th, 2017 Cypress announced the results from the first 3 holes of its fall drill program on the Dean Lithium Project. In a previous update on Cypress, I mentioned that the company's fall drill program is planned to consist of 12 to 14 holes and will target 100 m of depth.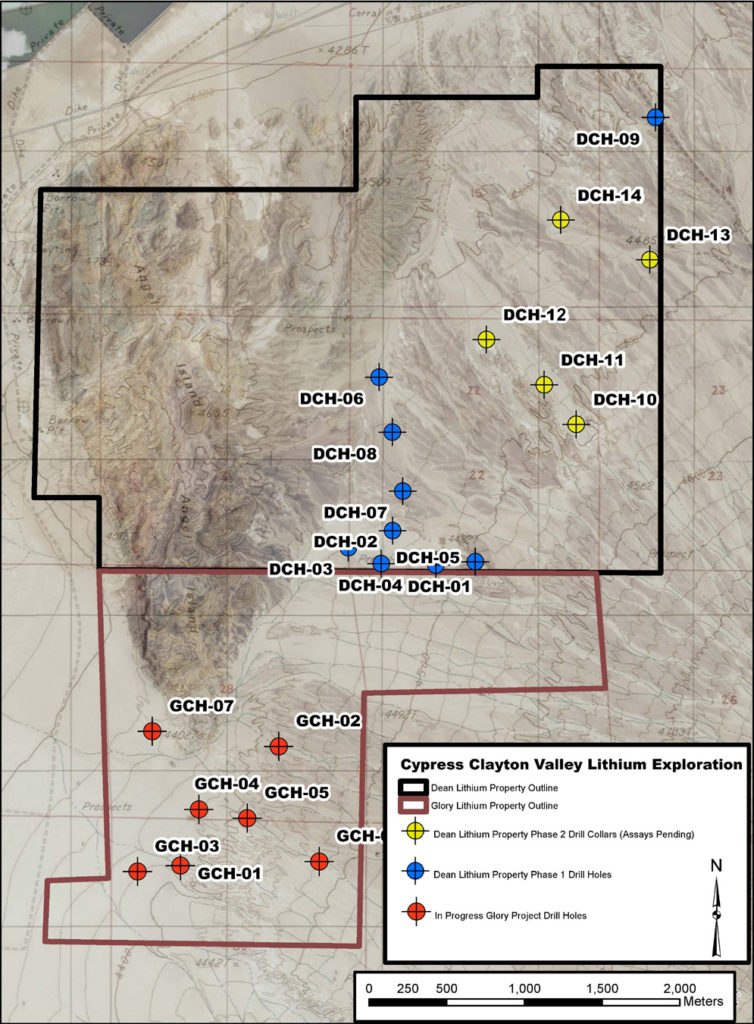 2017 Dean & Glory Projects, Clayton Valley, Nevada drill hole map
Historical drilling on the properties has intersected continuous and consistent lithium grades, averaging 899 ppm Li throughout the depths of the holes. Therefore, drill results from the fall program with continued intersections showing grades above 899 ppm Li over a good portion of the drilled depth should give us a good indication of the overall continuity and size of the project.
Let's take a look at the highlights, thus far:
Hole DCH-11 with 102.7 metres of 1029 ppm Li – good intersection with good grade and demonstrates continuity over a large thickness of claystone.
To note, hole DCH-11 included an interval, beginning at a depth of 8.2 metres, where samples averaged 1308 ppm Li over 36.9 metres.
Examining the drill hole map above, you can see hole DCH-10, which lies 400 m away from DCH-11, and intersected 63.5 metres of 1014 ppm Li. This hole was abandoned due to ground conditions and remains open at depth and to the east.
Additionally, it should be noted that hole DCH-10, encountered dark green to black ash-rich mudstones. The mudstones were encountered at a depth of 53.4 metres and averaged 1367 ppm Li over 10 metres, including 1 metre of 2240 ppm Li.
Overall, I think these are great results as they help prove the case for the continuity of the deposit. Additionally, as the company notes, with the results from holes DCH-10 and DCH-11, it is possible that a high-grade zone may exist within the overall northeast trend.
PUSH: Look for drill results from the remaining two holes on the Dean Lithium Project, DCH-13 and DCH-14, showing similar grade and interval thickness. Continued good results to the northeast of Dean will solidify, in my mind, that this is going to be a large claystone lithium deposit.
PUSH: Currently, the drill program is focused on the Glory Lithium Project. Look for drill results in the weeks ahead.
Gunman Zinc / Silver Project
In addition to the Dean and Glory Lithium Projects, Cypress also owns the Gunman Zinc / Silver Project, which is also located in Nevada. With their current focus on their lithium projects, it makes a lot of sense to monetize Gunman in some regard.
On December 7th, Cypress announced that they did just that, as Pasinex Resources Nevada Limited entered an Option Agreement with Cypress and Silcom Systems Inc.  The Agreement allows Pasinex to earn up to an 80% interest in the Gunman Project for a combination of cash, $1.5 million USD and Pasinex common shares, which will be paid out over the next 4 years. Additionally, Pasinex must incur a minimum exploration expenditure of $2,950,000 USD over the same 4 years in order to earn the 80% interest in the Gunman Project.
In my opinion, this is a great deal and allows Cypress to focus solely on their lithium assets while providing cash to the coffer for further development work on the properties.
Concluding Remarks
I believe that buying quality companies in sectors with long-term bullish fundamentals is a great way to be successful when investing in the resource sector. As that statement may seem elementary, remember that even within bull markets there are corrections or pauses in the uptrend. This is where having a long-term view can help you achieve the highest possible gains, as your emotions might be telling you to 'sell,' but arithmetic is saying 'buy' or 'hold.'
With this in mind, I'm putting my money into the battery metals that look to benefit from what I call, the electrification of the world. Lithium is one of these metals that, I think, will be at the forefront of this movement for years to come.
Thus far, Cypress' drill results are showing that there is continuity across the deposit, in terms of grade and depth. With this being the first 3 holes of a 12 to 14 hole program, we still have a lot of news flow to watch. Continued similar results across the rest of the program will set Dean and Glory up for a large, shallow lithium claystone deposit in one of the best mining jurisdictions in the world, Nevada.
Don't want to miss a new investment idea, interview or financial product review? Become a Junior Stock Review VIP now – it's FREE!
Until next time,
Brian Leni  P.Eng
Founder – Junior Stock Review
Disclaimer: The following is not an investment recommendation, it is an investment idea. I am not a certified investment professional, nor do I know you and your individual investment needs. Please perform your own due diligence to decide whether this is a company(s) and sector that is best suited for your personal investment criteria. Junior Stock Review does not guarantee the accuracy of any of the analytics used in this report. I do own Cypress Development Corporation shares. Cypress Development Corporation is a Sponsor of Junior Stock Review.